actual time to jan's PA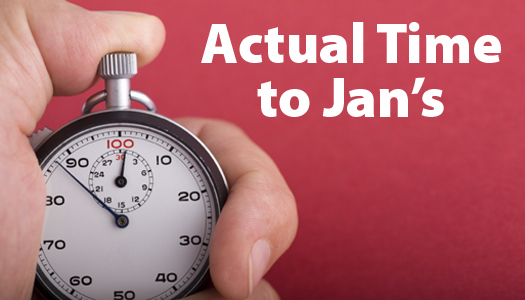 This link shows you the actual time it takes to drive to get to Jan's Boutique in Cherry Hill, NJ! Because Jan's services thousands of customers from out-of-state we created this list to help you quickly figure how long it will take you to get to Jan's Boutique from your home town area. Your probably thinking why do I need to spend one, two, three, four even five hours driving to a store to find a dress? Easy answer-----all your local stores do not offer a quarter the selection that Jan's Boutique offers under one roof....in your size!
As mentioned in various links Jan's Boutique is a 6,000 square foot store featuring 20 dressing rooms and over 4,000+ gowns and special occasion dresses in stock. Jan's stocks your size, we offer actual inventory for you to try on in sizes 000 thru 26, extra-small to 3X, regular, petite, large and plus, women's sizes and women's petites. Jan's Boutique's customer service is second to none, we care about our customers before and after the sale. Jan's Boutique ensures that your needs will be filled not only today but for years to come. Most importantly, the inventory stocked at Jan's are NOT SAMPLES but can be purchased off the rack for you to take home that day! Bridal stores and other boutiques typically offer "beat-up" samples in small sizes only that you would never consider buying! There are many other reasons our customers will travel as far as 5 hours to find the perfect dress. Check out our
WHY JAN'S
link and see our
TESTIMONIALS
link and you will be convinced that Jan's Boutique is well worth the drive! Still not sure then take a
STORE TOUR
and see Jan's Boutique for yourself!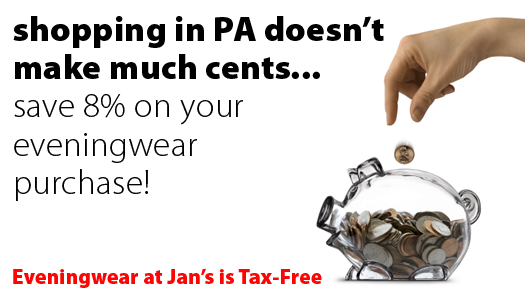 From Pennsylvania
From Abington, Pennsylvania, Jan's is only 38 minutes (20.4 miles)
From Aldham, Pennsylvania, Jan's is only 55 minutes (39.3 miles)
From Allentown, Pennsylvania, Jan's is only 1 hour and 28 minutes (73 miles)
From Altor, Pennsylvania, Jan's is only 1 hour (49.5 miles)
From Anselma, Pennsylvania, Jan's is only 1 hour and 2 minutes (46.5 miles)
From Ambler, Pennsylvania, Jan's is only 48 minutes (26 miles)
From Arcola, Pennsylvania, Jan's is only 53 mintues (38.8 miles)
From Ardsley, Pennsylvania, Jan's is only 41 minutes (21.1 miles)
From Atglen, Pennsylvania, Jan's is only 1 hour and 23 minutes (63 miles)
From Audubon, Pennsylvania, Jan's is only 48 minutes (32.7 miles)
From Avondale, Pennsylvania, Jan's is only 1 hour and 4 minutes (52.9 miles)
From Baederwood, Pennsylvania, Jan's is only 38 minutes (20.1 miles)
From Bacton, Pennsylvania, Jan's is only 54 minutes (38.4 miles)
From Baker, Pennsylvania, Jan's is only 1 hour and 4 minutes (51.9 miles)
From Bala, Pennsylvania, Jan's is only 28 minutes (17.2 miles)
From Barlow Heights, Pennsylvania, Jan's is only 55 minutes (42.3 miles)
From Barneston, Pennsylvania, Jan's is only 1 hour and 16 minutes (55.8 miles)
From Barren Hill, Pennsylvania, Jan's is only 40 minutes (22.6 miles)
From Barnsley, Pennsylvania, Jan's is only 1 hour and 19 minutes (63.6 miles)
From Berwyn, Pennsylvania, Jan's is only 47 minutes (31 miles)
From Belmont Terrace, Pennsylvania, Jan's is only 44 minutes (28.4 miles)
From Bergey, Pennsylvania, Jan's is only 1 hour and 5 minutes (45 miles)
From Bethayres, Pennsylvania, Jan's is only 38 minutes (19.6 miles)
From Bethel Hill, Pennsylvania, Jan's is only 54 minutes (34.5 miles)
From Betzwood, Pennsylvania, Jan's is only 43 minutes (30.8 miles)
From Berwyn, Pennsylvania, Jan's is only 47 minutes (31 miles)
From Birchrunville, Pennsylvania, Jan's is only 1 hour and 12 minutes (50 miles)
From Birdell, Pennsylvania, Jan's is only 1 hour and 12 minutes (55.5 miles)
From Birmingham, Pennsylvania, Jan's is only 50 minutes (41 miles)
From Black Horse, Pennsylvania, Jan's is only 42 minutes (32.3 miles)
From Blue Bell, Pennsylvania, Jan's is only 47 minutes (31 miles)
From Bondsville, Pennsylvania, Jan's is only 1 hour and 4 minutes (48.6 miles)
From Bramcote, Pennsylvania, Jan's is only 1 hour and 7 minutes (52 miles)
From Bradford Hills, Pennsylvania, Jan's is only 1 hour and 2 minutes (43.8 miles)
From Brandamore, Pennsylvania, Jan's is only 1 hour and 11 minutes (53.3 miles)
From Brandywine Manor, Pennsylvania, Jan's is only 1 hour and 9 minutes (52.9 miles)
From Brandywine Village, Pennsylvania, Jan's is only 44 minutes (28.3 miles)
From Bridgeport, Pennsylvania, Jan's is only 42 minutes (27.2 miles)
From Broomall, Pennsylvania, Jan's is only 42 minutes (22 miles)
From Brookfield, Pennsylvania, Jan's is only 50 minutes (41 miles)
From Buckingham, Pennsylvania, Jan's is only 1 hour and 5 minutes (42 miles)
From Bucktown, Pennsylvania, Jan's is only 1 hour and 9 minutes (52.4 miles)
From Bull Tavern, Pennsylvania, Jan's is only 51 minutes (34.6 miles)
From Byers, Pennsylvania, Jan's is only 56 minutes (44.5 miles)
From Caln, Pennsylvania, Jan's is only 1 hour and 8 minutes (50.5 miles)
From Cambridge, Pennsylvania, Jan's is only 1 hour and 23 minutes (59.8 miles)
From Cedar Hallow, Pennsylvania, Jan's is only 45 minutes (34.8 miles)
From Cedar Knoll, Pennsylvania, Jan's is only 1 hour and 12 minutes (53 miles )
From Center City, Pennsylvania, Jan's is only 15 minutes (9.5 miles)
From Charlestown, Pennsylvania, Jan's is only 56 minutes (39.7 miles)
From Chalfont, Pennsylvania, Jan's is only 1 hour and 2 minutes (35 miles)
From chatwood, Pennsylvania, Jan's is only 56 minutes (44.2 miles)
From Chestnut Hill, Pennsylvania, Jan's is only 39 minutes (21 miles)
From Chesterbrook, Pennsylvania, Jan's is only 42 minutes (31.4 miles)
From Chester Springs, Pennsylvania, Jan's is only 1 hour and 4 minutes (47.6 miles)
From Chrome, Pennsylvania, Jan's is only 1 hour and 22 minutes (67.9 miles)
From Clonmell, Pennsylvania, Jan's is only 1 hour 12 minutes (54.9 miles)
From Coatesville, Pennsylvania, Jan's is only 1 hour and 10 minutes (53.5 miles)
From Cochranville, Pennsylvania, Jan's is only 1 hour 14 minutes (58.6 miles)
From Collegeville, Pennsylvania, Jan's is only 56 minutes (40 miles)
From Compass, Pennsylvania, Jan's is only 1 hour and 20 minutes (61.2 miles)
From Corinne, Pennsylvania, Jan's is only 1 hour and 3 minutes (47.3 miles)
From Corner Ketch, Pennsylvania, Jan's is only 1 hour 6 minutes (49.4 miles)
From Conshohocken, Pennsylvania, Jan's is only 37 minutes (24 miles)
From Cromby, Pennsylvania, Jan's is only 1 hour (39.4 miles)
From Cupola, Pennsylvania, Jan's is only 1 hour 16 minutes (56 miles)
From Daleville, Pennsylvania, Jan's is only 1 hour and 11 minutes (56.1 miles)
From Daylesford, Pennsylvania, Jan's is only 49 minutes (34.1 miles)
From Devault, Pennsylvania, Jan's is only 46 minutes (35.6 miles)
From Devon, Pennsylvania, Jan's is only 46 minutes (30 miles)
From Dilworthtown, Pennsylvania, Jan's is only 46 minutes (38.9 miles)
From Dorlan, Pennsylvania, Jan's is only 1 hour and 5 minutes (47.1 miles)
From Downingtown, Pennsylvania, Jan's is only 1 hour and 3 minutes (45.8 miles)
From Dutton Mill, Pennsylvania, Jan's is only 58 minutes (40.9 miles)
From Doylestown, Pennsylvania, Jan's is only 1 hour and 2 minutes (50 miles)
From Downingtown, Pennsylvania, Jan's is only 1 hour and 4 minutes (46 miles)
From Dresher, Pennsylvania, Jan's is only 43 minutes (23 miles)
From Drexel Hill, Pennsylvania, Jan's is only 37 minutes (20 miles)
From Edenton, Pennsylvania, Jan's is only 1 hour 14 minutes (60.8 miles)
From Elkin's park, Pennsylvania, Jan's is only 33 minutes (19 miles)
From Elkview, Pennsylvania, Jan's is only 1 hour and 10 minutes (58.9 miles)
From Elverson, Pennsylvania, Jan's is only 1 hour 16 minutes (60.9 miles)
From Embreeville, Pennsylvania, Jan's is only 1 hour and 11 minutes (52.5 miles)
From Ercildoun, Pennsylvania, Jan's is only 1 hour and 18 minutes (56.7 miles)
From Ephrata, Pennsylvania, Jan's is only 1 hour and 29 minutes (76 miles)
From Exton, Pennsylvania, Jan's is only 59 minutes (41 miles)
From Fairmount Park, Pennsylvania, Jan's is only 25 minutes (14 miles)
From Fairview, Pennsylvania, Jan's is only 58 minutes (38.6 miles)
From, Fernhill, Pennsylvania, Jan's is only 56 minutes (45.1 miles)
From Fisherville, Pennsylvania, Jan's is only 1 hour and 5 minutes (48.6 miles)
From Fontaine, Pennsylvania, Jan's is only 1 hour and 19 minutes (61.3 miles)
From Forestville, Pennsylvania, Jan's is only 1 hour and 8 minutes (57.8 miles)
From Frazer, Pennsylvania, Jan's is only 53 minutes (37.8 miles)
From Freemont, Pennsylvania, Jan's is only 1 hour and 25 minutes (68.5 miles)
From Gallagherville, Pennsylvania, Jan's is only 1 hour and 6 minutes (47.7 miles)
From Germantown, Pennsylvania, Jan's is only 30 minutes (18 miles)
From Gladwyne, Pennsylvania, Jan's is only 33 minutes (21 miles)
From Glen Hall, Pennsylvania, Jan's is only 1 hour and 8 minutes (49.4 miles)
From Glenloch, Pennsylvania, Jan's is only 55 minutes (39.9 miles)
From Glenmoore, Pennsylvania, Jan's is only 1 hour and 11 minutes (50 miles)
From Glen Roy, Pennsylvania, Jan's is only 1 hour 21 minutes (67.3 miles)
From Glenside, Pennsylvania, Jan's is only 39 minutes (21 miles)
From Green Lawn, Pennsylvania, Jan's is only 1 hour 13 minutes (55.9 miles)
From Green Tree, Pennsylvania, Jan's is only 51 minutes (34.4 miles)
From Grove, Pennsylvania, Jan's is only 1 hour (43.1 miles)
From Hallman, Pennsylvania, Jan's is only 1 hour 6 minutes (41 miles)
From Hamorton, Pennsylvania, Jan's is only 54 minutes (44.4 miles)
From Harmonyville, Pennsylvania, Jan's is only 1 hour 19 minutes (55.5 miles)
From Hallowell, Pennsylvania, Jan' is only 49 minutes (43 miles)
From Harmonville, Pennsylvania, Jan's is only 40 minutes (27.5 miles)
From Harrisburg, Pennsylvania, Jan's is only 2 hours and 12 minutes (116 miles)
From Hatboro, Pennsylvania, Jan's is only 46 minutes (24.6 miles)
From Hatfield, Pennsylvania, Jan's is only 58 minutes (42.6 miles)
From Haverford, Pennsylvania, Jan's is only 36 minutes (19 miles)
From Hayesville, Pennsylvania, Jan's is only 1 hour and 14 minutes (61.6 miles)
From Hayti, Pennsylvania, Jan's is only 1 hour 12 minutes (54.6 miles)
From Hershey, Pennsylvania, Jan's is only 58 minutes (42.4 miles)
From Henderson Park, Pennsylvania, Jan's is only 3 hours and 41 minutes (212 miles)
From Headhouse Square, Pennsylvania, Jan's is only 23 minutes (10 miles)
From Hendricks, Pennsylvania, Jan's is only 1hour and 12 minutes (47.7 miles)
From Hickory Mills, Pennsylvania, Jan's is only 58 minutes (37.2 miles)
From Hickorytown, Pennsylvania, Jan's is only 39 minutes (27.8 miles)
From Hershey, Pennsylvania, Jan's is only 2 hours (104 miles)
From Huntingdon Valley, Pennsylvania, Jan's is only 38 minutes (20 miles)
From Hoffmansville, Pennsylvania, Jan's is only 1 hour and 19 minutes (52.3 miles)
From Homeville, Pennsylvania, Jan's is only 1 hour and 18 minutes (62.6 miles)
From HoneyBrook, Pennsylvania, Jan's is only 1 hour 16 minutes (58.4 miles)
From Hopewell, Pennsylvania, Jan's is only 1 hour 20 minutes (67.5 miles)
From Howellville, Pennsylvania, Jan's is only 48 minutes (32 miles)
From Hughes Park, Pennsylvania, Jan's is only 44 minutes (21.1 miles)
From Huntingdon Valley, Pennsylvania, Jan's is only 38 minutes (19.7 miles)
From Icedale, Pennsylvania, Jan's is only 1 hour and 10 minutes (53.7 miles)
From Isabella, Pennsylvania, Jan's is only 1 hour and 22 minutes (54.5 miles)
From Ivyrock, Pennsylvania, Jan's is only 41 minutes (21.7 miles)
From Jarrettown, Pennsylvania, Jan's is only 46 minutes (24 miles)
From Jeffersonville, Pennsylvania, Jan's is only 49 minutes (31.1 miles)
From Jennersville, Pennsylvania, Jan's is only 1 hour and 5 minutes (55.1 miles)
From Jenkintown, Pennsylvania, Jan's is only 35 minutes (19 miles)
From Kaolin, Pennsylvania, Jan's is only 1 hour and 5 minutes (52 miles)
From Kelton, Pennsylvania, Jan's is only 1 hour and 8 minutes (56.5 miles)
From Kemblesville, Pennsylvania, Jan's is only 1 hour and 12 minutes (57.3 miles)
From Kennett Square, Pennsylvania, Jan's is only 56 minues (46 miles)
From Kenilworth, Pennsylvania, Jan's is only 1 hour 2 minutes (48 miles)
From Kimberton, Pennsylvania, Jan's is only 1 hour and 3 minutes (39.4 miles)
From Kings of Manor, Pennsylvania, Jan's is only 45 minutes (32.7 miles)
From King of Prussia, Pennsylvania, Jan's is only 42 minutes (29 miles)
From Kleinville, Pennsylvania, Jan's is only 1 hour 15 minutes (57.6 miles)
From Kulpsville, Pennsylvania, Jan's is only 52 minutes (39.4 miles)
From Lafayette Hill, Pennsylvania, Jan's is only 41 minutes (23 miles)
From Lancaster, Pennsylvania, Jan's is only 1 hour and 42 minutes (78 miles)
From Lansdale, Pennsylvania, Jan's is only 58 minutes (33 miles)
From Laurel, Pennsylvania, Jan's is only 1 hour and 15 minutes (53.1 miles)
From Laverock, Pennsylvania, Jan's is only 40 mintues (20.8 miles)
From Lebanon, Pennsylvania, Jan's is only 1 hour and 57 minutes (97 miles)
From Lederach, Pennsylvania, Jan's is only 1 hour and 4 minutes (43.8 miles)
From Lenape, Pennsylvania, Jan's is only 53 minutes (43.4 miles)
From Lenover, Pennsylvania, Jan's is only 1 hour and 23 minutes (62.2 miles)
From Leopard, Pennsylvania, Jan's is only 53 minutes (35.3 miles)
From Lewis Mills, Pennsylvania, Jan's is only 1 hour and 16 minutes (55.7 miles)
From Lewisville, Pennsylvania, Jan's is only 1 hour and 16 minutes (58.7 miles)
From Limerick, Pennsylvania, Jan's is only 1 hour (44 miles)
From Lindberg Heights, Pennsylvania, Jan's is only 59 minutes (43.5 miles)
From Linfield, Pennsylvania, Jan's is only 59 minutes (43.6 miles)
From Lionville, Pennsylvania, Jan's is only 55 minutes (44.1 miles)
From Little Washington, Pennsylvania, Jan's is only 1 hour and 7 minutes (51 miles)
From Loag, Pennsylvaia, Jan's is only 1 hour and 18 minutes (53 miles)
From Longwood, Pennsylvaia, Jan's is only 53 minutes (44 miles)
From Lower Hopewell, Pennsylvaia, Jan's is only 1 hour and 20 minutes (67.5 miles)
From Lucon, Pennsylvania, Jan's is only 1 hour and 5 minutes (41.5 miles)
From Ludwigs Corner, Pennsylvania, Jan's is only 1 hour (47.5 miles)
From Lyndell, Pennsylvaia, Jan's is only 1 hour and 9 minutes (50.3 miles)
From Mainland, Pennsylvania, Jan's is only 54 minutes (40.3 miles)
From Malvern, Pennsylvania, Jan's is only 54 minutes (36 miles)
From Maple Grove, Pennsylvania, Jan's is only 1 hour and 20 minutes (64.7 miles)
From Marble Hall, Pennsylvania, Jan's is only 40 minutes (22.6 miles)
From Marlboro, Pennsylvania, Jan's is only 1 hour 3 minutes (47.7 miles)
From Manayunk, Pennsylvania, Jan's is only 30 minutes (17 miles)
From Meadowbrook, Pennsylvania, Jan's is only 5 hours and 10 minutes (306 miles)
From Melrose park, Pennsylvania, Jan's is only 33 minutes (17.2 miles0
From Mechanics burg, Pennsylvania, Jan's is only 2 hours and 17 minutes (123 miles)
From Media, Pennsylvania, Jan's is only 39 minutes (30 miles)
From Merion Park, Pennsylvania, Jan's is only 32 minutes (16.6 miles)
From Merlin, Pennsylvania, Jan's is only 1 hour and 2 minutes (41.4 miles)
From Mingo, Pennsylvania, Jan's is only 59 minutes (42.4 miles)
From Mill Lane, Pennsylvania, Jan's is only 51 minutes (37.5 miles)
From Milltown, Pennsylvania, Jan's is only 57 minutes (41.7 miles)
From Modena, Pennsylvania, Jan's is only 1 hour 16 minutes (56 miles)
From Mogees Station, Pennsylvania, Jan's is only 40 minutes (27.7 miles)
From Mont Clare, Pennsylvania, Jan's is only 53 minutes (37.2 miles)
From Montgomeryville, Pennsylvania, Jan's is only 57 minutes (32.6 miles)
From Morstein, Pennsylvania, Jan's is only 56 minutes (47.6 miles)
From mortonville, Pennsylvania, Jan's is only 1 hour and 15 minutes (53.1 miles)
From Mount Vernon, Pennsylvania, Jan's is only 1 hour and 19 minutes (64.8 miles)
From Narberth, Pennsylvania, Jan's is only 34 minutes (19 miles)
From Neiffer, Pennsylvania, Jan's is only 1 hour and 7 minutes (46.6 miles)
From New Centerville, Pennsylvania, Jan's is only 41 minutes (29.7 miles)
From New Garden, Pennsylvania, Jan's is only 1 hour and 6 minutes (51.8 miles)
From New London, Pennsylvania, Jan's is only 1 hour and 14 From New Hanover, Pennsylvania, Jan's is only 1 hour and 13 minutes (49.8 miles)
From New Hope, Pennsylvania, Jan's is only 56 minutes (46 miles)
From New Holland, Pennsylvania, Jan's is only 1 hour and 31 minutes (69 miles)
From New Linville, Pennsylvania, Jan's is only 42 minutes (30.5 miles)
From Newtown, Pennsylvania, Jan's is only 46 minutes (36 miles)
From Newtown Square, Pennsylvania, Jan's is only 48 minutes (38 miles)
From Norristown, Pennsylvania, Jan's is only 46 minutes (29 miles)
From Norrintonville, Pennsylvania, Jan's is only 52 minutes (32.9 miles)
From Northbrook, Pennsylvania, Jan's is only 1 hour and 3 minutes (47.4 miles)
From North Hills, Pennsylvania, Jan's is only 2 hours 56 minutes (168 miles)
From North Wales, Pennsylvania, Jan's is only 56 minutes (31 miles)
From Northern Liberties, Pennsylvania, Jan's is only 21 minutes (10 miles)
From Oak Park, Pennsylvania, Jan's is only 57 minutes (42.1 miles)
From Oakbourne, Pennsylvania, Jan's is only 51 minutes (42.2 miles)
From Obelisk, Pennsylvania, Jan's is only 1 hour and 15 minutes (48.7 miles)
From Old City, Pennsylvania, Jan's is only 12 minutes (7 miles)
From Oreland, Pennsylvania, Jan's is only 43 minutes (22.3 miles)
From Oxford, Pennsylvania, Jan's is only 1 hour and 14 minutes (62.2 miles)
From Palm, Pennsylvania, Jan's is only 1 hour and 21 minutes (60.8 miles)
From Paoli, Pennsylvania, Jan's is only 49 minutes (33.8 miles)
From Parker Ford, Pennsylvania, Jan's is only 1 hour and 3 minutes (44.9 miles)
From Parkersville, Pennsylvania, Jan's is only 53 minutes (43.6 miles)
From Parkersburg, Pennsylvania, Jan's is only 1 hour and 16 minutes (59.7 miles)
From Penllyn, Pennsylvania, Jan's is only 55 minutes (29.8 miles)
From Penn Hurst, Pennsylvania, Jan's is only 1 hour (43.6 miles)
From Penns Landing, Pennsylvania, Jan's is only 20 minutes (10 miles)
From Penns Square, Pennsylvania, Jan's is only 48 minutes (30.9 miles)
From Penn Valley, Pennsylvania, Jan's is only 38 minutes (34.4 miles)
From Pennsburg, Pennsylvania, Jan's is only 1 hour and 15 minutes (58.1 miles)
From Perkiomen Heights, Pennsylvania, Jan's is only 1 hour and 19 minutes (57.9 miles)
From Philadelphia, Pennsylvania, Jan's is only 20 minutes (10 miles)
From Phoenixville, Pennsylvania, Jan's is only 56 minutes (38 miles)
From Pickering, Pennsylvania, Jan's is only 56 minutes (37.4 miles)
From Pikeland, Pennsylvania, Jan's is only 1 hour and 5 minutes (48.1 miles)
From Pine Swamp, Pennsylvania, Jan's is only 1 hour and 22 minutes (56.7 miles)
From Planebrook, Pennsylvania, Jan's is only 51 minutes (38 miles)
From Plymouth Meeting, Pennsylvania, Jan's is only 39 minutes (27.9 miles)
From Poconos, Pennsylvania, Jan's is only 2 hours and 11 minutes (112 miles)
From Pomeroy, Pennsylvania, Jan's is only 1 hour and 18 minutes (57.1 miles)
From Port Providence, Pennsylvania, Jan's is only 53 minutes (36.9 miles)
From Pottsgrove, Pennsylvania, Jan's is only 1 hour and 12 minutes (52.7 miles)
From Pottstown, Pennsylvania, Jan's is only 1 hour 8 minutes (50.3 miles)
From Porters Mill, Pennsylvania, Jan's is only 1 hour and 12 minutes (53.2 miles)
From Prospectville, Pennsylvania, Jan's is only 54 minutes (46.6 miles)
From Queen Village, Pennsylvania, Jan's is only 23 minutes (11 miles)
From Rahns, Pennsylvania, Jan's is only 1 hour (41.5 miles)
From Reading, Pennsylvania, Jan's is only 1 hour and 25 minutes (73 miles)
From Red Hill, Pennsylvania, Jan's is only 2 hours 59 minutes (150 miles)
From Red Lion, Pennsylvania, Jan's is only 2 hours and 11 minutes (114 miles)
From Reliance, Pennsylvania, Jan's is only 1 hour and 5 minutes (45.7 miles)
From Richboro, Pennsylvania, Jan's is only 51 minutes (32 miles)
From Rittenhouse Square, Pennsylvania, Jan's is only 24 minutes (10 miles)
From Rockledge, Pennsylvania, Jan's is only 31 minutes (16.6 miles)
From Rocky Hill, Pennsylvania, Jan's is only 58 minutes (41.6 miles)
From Romansville, Pennsylvania, Jan's is only 1 hour and 11 minutes (51 miles)
From Rosedale, Pennsylvania, Jan's is only 57 minutes (45.1 miles)
From Rose Valley, Pennsylvania, Jan's is only 40 minutes (28.8 miles)
From Roseglen, Pennsylvania, Jan's is only 40 minutes (27.5 miles)
From Rosemont, Pennsylvania, Jan's is only 36 minutes (20.4 miles)
From Roslyn, Pennsylvania, Jan's is only 40 minutes (21.4 miles)
From Royersford, Pennsylvania, Jan's is only 56 minutes (41.5 miles)
From Russellville, Pennsylvania, Jan's is only 1 hour and 12 minutes (59.7 miles)
From Saint Peters, Pennsylvania, Jan's is only 1 hour and 17 minutes (53.3 miles)
From Salford, Pennsylvania, Jan's is only 1 hour and 13 minutes (48.7 miles)
From Salfordville, Pennsylvania, Jan's is only 1 hour and 8 minutes (45.9 miles)
From Sassamansville, Pennsylvania, Jan's is only 1 hour and 23 minutes (53.6 miles)
From Schwenksville, Pennsylvania, Jan's is only 1 hour and 8 minutes (45.3 miles)
From Seven Stars, Pennsylvania, Jan's is only 37 minutes (26.5 miles)
From Shirks Conrner, Pennsylvania, Jan's is only 1 hour and 9 minutes (46.1 miles)
From Skippack, Pennsylvania, Jan's is only 1 hour 2 minutes (43.9 miles)
From Snowdenville, Pennsylvania, Jan's is only 1 hour and 7 minutes (45.3 miles)
From Society Hill, Pennsylvania, Jan's is only 21 minutes (10 miles)
From Souderton, Pennsylvania, Jan's is only 1 hour and 5 minutes (45.2 miles)
From Southampton, Pennsylvania, Jan's is only 2 hours and 52 minutes (156 miles)
From South Philadelphia, Pennsylvania, Jan's is only 22 minutes (15 miles)
From Spring City, Pennsylvania, Jan's is only 58 minutes (42.2 miles)
From Springdell, Pennsylvania, Jan's is only 1 hour and 16 minutes (57 miles)
From Spring House, Pennsylvania, Jan's is only 52 minutes (28.1 miles)
From Springlawn, Pennsylvania, Jan's is only 1 hour and 18 minutes (59.6 miles)
From Spring Mill, Pennsylvania, Jan's is only 38 minutes (25.1 miles)
From Spring Mount, Pennsylvania, Jan's is only 4 hours and 9 minutes (226 miles)
From Spruces, Pennsylvania, Jan's is only 1 hour and 14 minutes (55.2 miles)
From State Hill, Pennsylvania, Jan's is only 1 hour and 51 minutes (87.4 miles)
From Stottsville, Pennsylvania, Jan's is only 1 hour and 20 minutes (57.6 miles)
From Strafford, Pennsylvania, Jan's is only 44 minutes (29.1 miles)
From Stowe, Pennsylvania, Jan's is only 5 hours and 22 minutes (320 miles)
From Sugartown, Pennsylvania, Jan's is only 59 minutes (40.5 miles)
From Suplee, Pennsylvania, Jan's is only 1 hour and 18 minutes (58.1 miles)
From Sumneytown, Pennsylvania, Jan's is only 1 hour and 10 minutes (47.4 miles)
From Sunnybrook, Pennsylvania, Jan's is only 43 minutes (22.5 miles)
From Swedesburg, Pennsylvania, Jan's is only 39 minutes (26 miles)
From The Art Museum, Pennsylvania, Jan's is only 23 minutes (11 miles)
From The University of Pennsylvania, Pennsylvania, Jan's is only 23 minutes (12 miles)
From Telford, Pennsylvania, Jan's is only 1 hour and 6 minutes (44.6 miles)
From Trappe, Pennsylvania, Jan's is only 58 minutes (40.6 miles)
From Thorndale, Pennsylvania, Jan's is only 1 hour and 5 minutes (48.9 miles)
From Towerville, Pennsylvania, Jan's is only 1 hour and 17 minutes (56.4 miles)
From Tweedale, Pennsylvania, Jan's is 1 hour 20 minutes (64.8 miles)
From Tylersport, Pennsylvania, Jan's is only 1 hour and 12 minutes (49.6 miles)
From Unionville, Pennsylvania, Jan's is only 1 hour and 3 minutes (49.7 miles)
From Valley Forge, Pennsylvania, Jan's is only 48 minutes (32.9 miles)
From Wallace, Pennsylvania, Jan's is only 1 hour and 11 minutes (50.8 miles)
From Warwick, Pennsylvania, Jan's is only 1 hour and 19 minutes (55.4 miles)
From Waterloo Mills, Pennsylvania, Jan's is only 49 minutes (30.9 miles)
From Wayne, Pennsylvania, Jan's is only 42 minutes (28 miles)
From West Chester, Pennsylvania, Jan's is only 53 minutes (43 miles)
From West Grove, Pennsylvania, Jan's is only 1 hour and 5 minutes (53.4 miles)
From West Point, Pennsylvania, Jan's is only 57 minutes (35.4 miles)
From Westwood, Pennsylvania, Jan's is only 1 hour and 15 minutes (55.5 miles)
From Willow Grove, Pennsylvania, Jan's is only 42 minutes (23 miles)
From Willowdale, Pennsylvania, Jan's is only 59 minutes (47 miles)
From Wickerton, Pennsylvania, Jan's is only 1 hour and 9 minutes (55.4 miles)
From White Horse, Pennsylvania, Jan's is only 1 hour and 26 minutes (64 miles)
From Worcester, Pennsylvania, Jan's is only 57 minutes (57 miles)
From Woodcrest, Pennsylvania, Jan's is only 54 minutes (45 miles)
From Woodville, Pennsylvania, Jan's is only 1 hour and 7 minutes (52.7 miles)
From Woxall, Pennsylvania, Jan's is only 1 hour and 5 minutes (45.2 miles)
From Wynnewood, Pennsylvania, Jan's is only 31 minutes (17 miles)
From Villanova, Pennsylvania, Jan's is only 38 minutes (26 miles)
From Youngsburg, Pennsylvania, Jan's is only 1 hour and 16 minutes (56 miles)
From Ziegierville, Pennsylvania, Jan's is only 1 hour 11 minutes (46.6 miles)